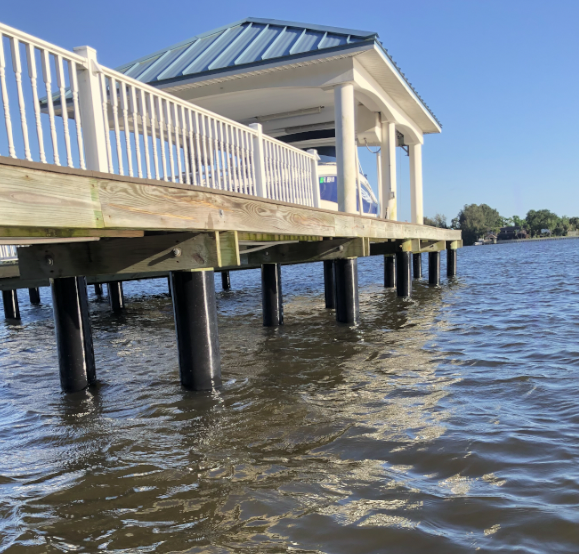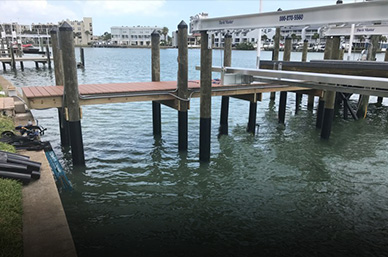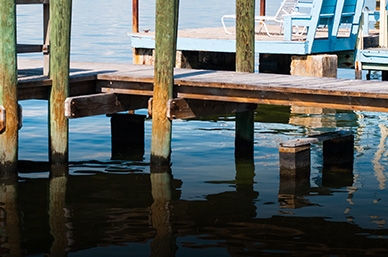 Protect the investment that you have made in your dock with services from PJ's Divers and Docks. Dock safety is important, and it starts at the base level. 
Over time, barnacles and other debris from the water can start to stick onto your dock pilings, causing corrosion. The best way to to prevent corrosion is to wrap your pilings.  If your pilings have already started to corrode, we also offer solutions such as customized snap jackets and concrete piling repair.  
Speak with us today and schedule an assessment to find out what is best for your dock!
The Professional Dock Piling Repair Process
Receive top service for your piling wrap repair when you turn to our professionals for your service options. We follow the proper process to ensure a quality result to the job:
Before installation can begin, we inspect the pilings by probing them.

After this inspection is complete, we start the process of removing marina hard growth from the surface of the pile.

We wrap an interior barrier around the existing dock piling before covering it with a special PVC jacket to keep water from penetrating the piling. This also protects the surface from barnacles and other damaging organisms. We believe this extra step separates our quality a step above the rest.

Cleaned deck poles are tightly wrapped with our base layer of protection, greatly reducing the water flow.

We use a high-density, polyethylene wrap to encase your dock poles and protect the base layer wrap.

Our divers secure the final wrap to your dock poles through the use of 1-1/4″ stainless steel ring-shank nails.

For the final step, the wrap is installed 8-12″ in the sand or mud, and topped off at 12″ above high tide, or the bottom of the dock system. Nails are then installed every 4″ along the seams.
Our Piling Wrap Adds Extra Protection
To ensure the top result possible for our services, we only offer our piling wrap in black color. This shade offers a high UV rating for added protection for every use. When you turn to us for service, you can trust that your new piling will be safe from any marine life that can impact the integrity of your dock wood.
We are happy to assess your recent work and give you a free second opinion.
Contact us today to learn more about our competitive rates and 2nd opinions in the Pinellas Beach, Tampa Bay, Bradenton, and St. Pete surrounding areas.